What is TikTok App?
TikTok is a popular short-video app that has been downloaded more than 2 billion times on the Google Play Store and Apple's App Store.
This social media app, which has caused controversy in many markets such as India and USA due to national security concerns since the first day of its launch, first appeared as Douyin in Mainland China in 2016. A year later, in 2017, Chinese developer ByteDance acquired Musically for $1 billion and merged it into TikTok.
So, what is TikTok app used for?
TikTok offers users hundreds of effects and filters to create their short videos up to 60 seconds. Users are able to add sound clips from the apps' vast music library to the background of their videos and share their TikToks with millions of other users in the app.
TikTok shows the most liked and engaging videos on its homepage to other users, which made it possible for the app to become quite popular and for many users to step into the world of influencer marketing gaining millions of followers in a very short time.
It's wide user base also attracted the attention of businesses very quickly. Now, many global brands and SMEs include TikTok in their social media marketing strategies and promote their products and services using the various advertising opportunities offered by the platform.
| | |
| --- | --- |
| Headquarter | Los Angeles, California |
| Global Offices | LA, NY, London, Paris, Berlin, Tokyo, Seoul, Singapore, Dubai, Mumbai, Jakarta |
| Platforms | Mobile, PC, Tablets |
| Number of Employees | 5200+ |
| Website | https://www.tiktok.com/ |
| Founded Date | 2016 (Douyin), 2017 (TikTok) |
| Founder | ByteDance |
| Crunchbase Profile | Profile Link |
| Google Play | App Store Link |
| App Store | App Store Link |
Now, let's take a look at the latest Tiktok statistics for 2020.
TikTok User & Usage Stats (2021)
TikTok announced on September 27 that reached 1 billion monthly active users globally this summer, marking a 45% jump since July 2020. The United States, Europe, Brazil and Southeast Asia are the biggest markets for the popular social media app.
| | |
| --- | --- |
| Year | TikTok Monthly Active Users |
| 2021 | 1 billion |
| 2020 | 689 million |
| 2019 | 508 million |
| 2018 | 271 million |
| 2017 | 55 million |
TikTok was the most downloaded and highest grossing non-game app globally in the first half of 2021, reaching nearly 383 million first-time installs. (Sensor Tower)
As of July 2021, with the 3 billion install milestone, TikTok is the fifth non-game app to join a tier that's historically been the exclusive domain of Facebook.
TikTok's first-time downloads climbed 2 percent Q/Q to 177.5 million in Q1 2021, and surged 16 percent Q/Q to 205.4 million Q2 2021, the most growth the app has seen since its record-breaking Q1 2020 when it accumulated more than 315 million installs.
As of March 2021, 50.6 percent of Android TikTok app owners in the United States accessed the video sharing app on a daily basis. According to App Ape, 77.1% of U.S. TikTok audiences were monthly active users of the app. (Statista)
According to recent industry data, Peru was the fastest-growing iOS TikTok market, as February 2021 downloads of the video sharing app increased more than 120.4 percent compared to previous month. During this period, TikTok generated 52.9 thousand downloads via the Apple App Store in Peru. The global number of monthly iOS TikTok downloads amounted to 11.4 million. (Statista)

Poland was the fastest-growing TikTok market based on downloads with Google Play, as February 2021 downloads of the video sharing app in the country increased 88.6 percent compared to the previous month. Polish Android users downloaded TikTok a total of almost 434 thousand times during the measured period. (Statista)

The mobile app of TikTok has been downloaded over 2 million times on the major app markets. It also broke a new record by getting 315 million app installs and became the most downloaded app in the first quarter of 2020. (Show More)
Douying, the Chinese version of TikTok, has 400 million daily active users in Mainland China. (TechCrunch)
Chinese users account for 80% of the total amount of time spent in the short video app. (AppAnnie)
It is available in more than 150 countries around the world. (TikTok)
It supports 39 languages. (TikTok)
It is estimated that TikTok currently has 85 million active users in the USA. (Wallaroo)
Brazil accounts for the 10.4% (104.7 million) of the total TikTok installs, as of January 2020. (Statista)
More than half of all TikTok users are aged between 18-24 years old. (Adage)
40 most popular TikTok influencers have at least 10 million followers. (Business Insider)
As of May 2020, Charli d'Amelio was the most popular TikToker on the platform with over 59.2 million followers. (Statista)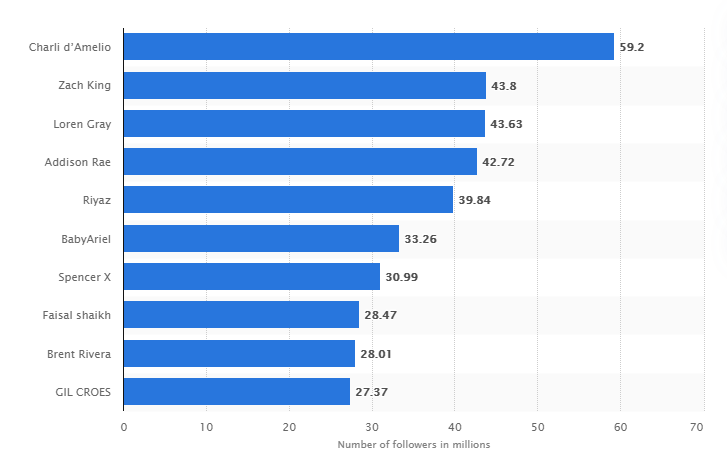 68 billion hours spent in TikTok in 2019. (AppAnnie) It is now estimated to be much higher than the previous year due to the Coronavirus lockdowns.
Everyday, users spend an average of 52 minutes on the app.
Users view 1 million videos every day. (2019 – Statista)
What is the most liked video on TikTok? (2020)
The most liked video on TikTok 2020 is a dance video by @justmaiko featuring a cute kid. The video received more than 25.4 million likes and 118.5K comments.
TikTok Revenue Statistics (2021)
In the first half of 2021, TikTok generated an estimated $919.2 million in consumer spending. Consumer spending in TikTok has now surpassed $2.5 billion globally.
In Q2 2021, TikTok saw its biggest quarter-over-quarter growth in consumer spending since Q2 2020, climbing 39% to $534.6 million from $384.7 million in the previous quarter.
Shopping on TikTok increased by 553% in the last 12 months.
TikTok generated nearly 1.84 million U.S. dollars in app revenues in Saudi Arabia via Google Play in February 2021. Saudi Arabia accounted for 24 percent of TikTok's revenues throughout the Google Play store during the measured period. (Statista)

ByteDance aims to handle more than $185 billion of e-commerce annually by 2022, building on the reach of social media wunderkinds TikTok and Douyin. (Bloomberg)

Investors of ByteDance value TikTok at $50 billion. (Reuters)

TikTok generated nearly 2.1 million U.S. dollars in U.S. app revenues from iOS in February 2021. The United States accounted for 44 percent of TikTok's revenues throughout the Apple App Store. (Statista)
ByteDance reported a $5.6 billion increase in its revenue in the first quarter of 2020. (Business Insider)
In February 2020, TikTok's lifetime user spending reached $300 million. (Statista)
TikTok generated $78 million from in-app purchases in April 2020. (Show More)
It grossed $177 million last year, 5 times more than it had in 2018. (Sensor Tower)
In 2019, China was TikTok's biggest revenue source with $122.9 million coming from iOS users. During the same time period, U.S. users spent $36 million and UK users spent $4.2 million. ( Sensor Tower)
TikTok News
Around half of Americans worry TikTok would share their data with the Chinese government – Insider
TikTok now lets you apply for jobs through 'TikTok Resumes'
ByteDance starts selling TikTok's AI to other companies
TikTok 'Jumps' will let users add mini apps to videos
Biden withdrawing Trump TikTok and WeChat ban orders
TikTok's news privacy policy lets it collect faceprints and voiceprints
TikTok begins testing in-app shopping, sources say
TikTok's new SDKs enable apps to offer 'Login with TikTok' & sound-sharing
TikTok launches Lead Generation ads to help brands drive customer acquisition
TikTok opens European Transparency and Accountability Centre to address privacy concerns
TikTok outlines ad campaign changes due to Apple's ATT framework
TikTok sued over child privacy concerns on behalf of millions of European children
TikTok will make personalized ads mandatory as of April 15
TikTok asks court to stop U.S ban on app downloads
TikTok Owner ByteDance Clarifies False Rumors About The US Deal
TikTok Ban Postponed, WeChat Ban Halted By Judge
Oracle Wins Bid For TikTok's US Operations As ByteDance Rejects Microsoft
ByteDance Plans TikTok IPO To Win US Deal – Sources
Trump Says TikTok Deadline For US Sale Won't Be Extended
TikTok Launches New Stitch Feature To Allow Users To Sample Other Videos
Walmart partners with Microsoft for TikTok to boost its online sales
Trump Bans US Transactions With Chinese Owners Of TikTok and WeChat
Trump gives Microsoft 45 days for TikTok deal
Microsoft's Worth Jumps Up By $77 Billion After Confirming Plans To Acquire TikTok
Twitter and TikTok Have Held Early Talks About a Possible Combination
U.S. TikTok Alternatives See 361% Increase In Downloads As TikTok Faces Ban
Instagram Tries To Lure TikTok Creators To Reels By Offering Them Money
India Bans 59 Chinese Apps Including TikTok, UC Browser and ShareIt
India Bans 47 More Chinese Apps Including TikTok Lite, SHAREit Lite and Helo Lite
TikTok's Self-Serve Advertising Platform Is Now Available Globally
TikTok Breaks A New Record Hitting 2 Billion App Downloads
Google Removes 5 Million Negative TikTok Reviews
TikTok's Testing Instagram-Like Profile Page Design
The CEO Of Reddit: TikTok is Fundamentally Parasitic
US Navy Bans TikTok Saying It's a Cybersecurity Thread
Mark Zuckerberg Has a Secret TikTok Account?
TikTok Has Finally Banned #SkullBreaker Challenge